Butcher & the Brewer was recently profiled in the July 2017 issue of Properties Magazine.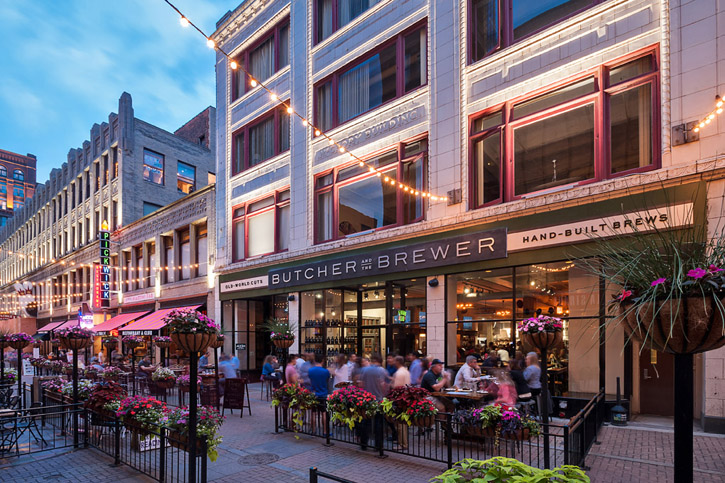 Project Profile: Butcher & the Brewer
2043 E. 4th Street., Cleveland
The Butcher and the Brewer on East 4th Street serves gourmet meats and beers built around its own on-site butcher shop and in-house brewing operation. The restaurant is owned and operated by Jason Workman of Cleveland Brewing Company, and was designed by Dimit Architects.
The space once served as a turn-of-the-century department store, and still boasts the building's original, hand-carved wooden staircase. Aside from the staircase, the interior was almost completely redone. Today, inside the restaurant's glass façade, patrons enjoy a vintage atmosphere where "almost everything is custom," says Dimit's Matt Plecnik, the project architect. The concept for the two-story, 13,657 square-foot space revolves around "an assemblage of old, salvaged bits and parts," all found by Workman and his associates.
Nearly everything in the restaurant is salvaged, reclaimed, or a found-object—and it all comes from different places. The 37-foot steel beam that sits above the bar came from a Cleveland steelyard. The entryway from the butcher shop to the restaurant consists of heavy, wood-framed doors salvaged from an old office building. Workman's associates crafted the wooden tables and concrete bar top. The unique coed bathroom even features a salvaged, porcelain community sink.
Speaking on the design process, Plecnik says that Workman had a general idea of what he wanted the space to be, but allowed the salvaged to drive the final design. The attitude was: "If we like the look and feel, let's make it work."
The fluid design process allowed a collaborative loop: Plecnik and the team at Dimit Architects would draw up a design, then Workman and his team would find another salvaged piece. Dimit then would revisit the designs and go through "several more iterations to figure out the best way to integrate the vintage pieces." The back-and-forth resulted in an assemblage of vintage pieces-parts that achieves the rustic atmosphere Workman envisioned.
The most important of the custom furnishings are the brewing vats and fermenting tanks at the heart of the operation. The tanks, which are doubled barreled for optimum temperature control, are integrated into the design of the space so that patrons upstairs or down are in the presence of brewing beer.
-Matthew Gauthier