811 Kitchen, and the rehab of 811 Prospect Ave. in Downtown Cleveland was recently profiled in the July 2017 issue of Properties Magazine.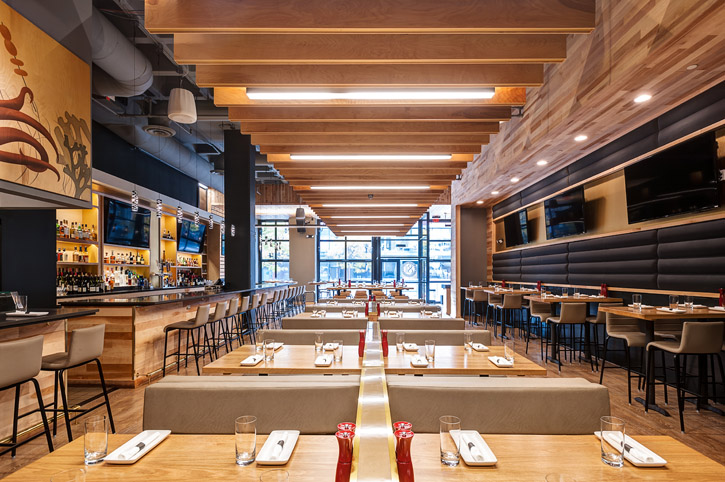 Project Profile: 811 Kitchen Bar & Lounge
811 Prospect Ave., Cleveland
A recent conversion project transformed a vacant building in a prime location into a two-story, 26,000-square-foot flexible restaurant and office space on Prospect Avenue. The building is owned by a local family real-estate company, headed by Gregg Levy, with Red Restaurant Group providing the restaurant concept, 811 Kitchen, and Dimit Architects doing design work on the entire building.
The building itself dates to the 1990s and was originally intended to house a comedy club, but went largely unoccupied until Levy and company purchased the space. Given the non-storied history, Project Architect Maggie Young of Dimit Architects says it was "an interesting project to bring to life for the first time."
The original concrete-cube building had few windows and a plain façade. The first step was to open up the space. Dimit's team worked with Dennis Luke of RDS Construction, the general contractor, to cut windows into the front and side of the building. The second floor, features a newly created balcony and space for several tenants.
Bi-fold garage-door windows were chosen for the restaurant space to "create an indoor-outdoor transition space," says Young. They also add flexibility: during the summer, the open windows give the feel of patio-dining; during winter, the windows close and patrons can enjoy a cozy lounge space built around a suspended fire place.
The new windows provide natural light to complement the interior's neutral colors. Young says the color palette "allows an eclectic menu to shine". A mural designed by the Dimit team depicting a sushi-making octopus adds flair to the wood-paneled interior. The restaurant's ceiling varies, adding visual interest. Panels of different textures complement each other to draw attention to a gold-flecked standing fireplace.
Overall, Young says the design was driven by flexibility. The team sought to create "spaces that can function in multiple ways so that the restaurant can be many different things." Moveable booths help achieve this goal, as do the wire-mesh curtains that hang from the ceiling and can be used to cordon off certain sections of the restaurant for private events.
Last month, RED Restaurant Group temporarily closed the restaurant for rebranding with a reopening scheduled for this fall.
-Matthew Gauthier