Fresh Views at Nuevo Cleveland
Modern Mexican restaurant and tequila bar rises on the lakefront
Written by DIANE DIPIERO RODIO | Photos by Christian Phillips | Published in Properties Magazine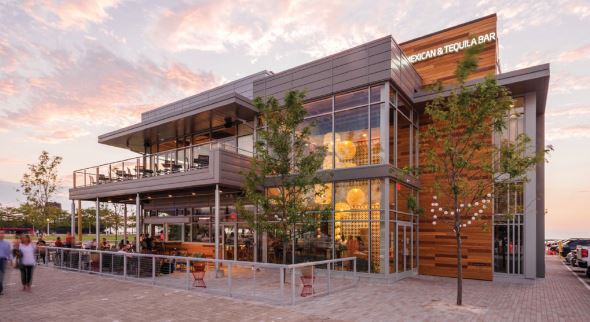 Nuevo means "new" in Spanish. In Cleveland, it means something fresh, different and exciting on the waterfront. The opening of Nuevo Modern Mexican & Tequila Bar puts the spotlight on an area that has been crying out for a restaurant for some time. Framed by Lake Erie, the Rock and Roll Hall of Fame and Museum, and the William G. Mather Museum, Nuevo represents phase one of a three-part lakefront plan, accored to Richard Pace, chief executive officer of Cumberland Real Estate Development.
"I had wanted to do something in this area for a long time," Pace says. "I was very excited to submit a proposal to the city."
Pace partnered with developer Trammell Crow on the project, which was selecfted by the City of Cleveland in January 2014. A design-build collaboration with the Snavely Group cut down on project time and allowed for a team effort to produce the desired results. "The first phase was designed to activate the harbor," Pace explains. Just behind Nuevo, sand volleyball courts entice visitors to play a game or two. Pace notes that other community-engaging enhancements will likely include a bocce court and a dog park.
Nuevo, with its contemporary twist on Mexican cuisine, already had a strong presence in Akron. Owner Zack Hirt had been considering opening a second restaurant in the north, when a broker connected with Pace and Trammell Crow. The developers were impressed with the food and the large crowds it attracted, and invited Hirt to open a second Nuevo on the shores of Lake Erie.
For Hirt, it was a whirlwind chance to share his successful recipe for contemporary Mexican cuisine with the Cleveland market.
"We had been looking to expand our restaurant, but not this soon," he says.
However, when approached, Hirt gladly accepted. Being part of the restaurant design from the beginning was especially enticing.
"In Akron, we were working with an existing location," Hirt Says.
Here, Hiri was able to request elements that paired well with Nuevo's inventive cuisine.
At Cleveland's Nuevo location, the atmosphere is at once international and very much Cleveland. mid a sleek, modern architectural frame, walls of windows ensure that the lakefront becomes an integral part of the design scheme.
"We really enjoyed exploring the more modern application of traditional Latin American materials, patterns, crafts, colors and motifs at this new Nuevo restaurant location," says Analia Nanni Dimit, director of interior architecture for Dimit Architects.
"Clean, modern exterior materials like glass, aluminum panels and cedar slats subtly frame the wonderful harbor-front vistas," adds Gary Ogrocki, also with Dimit Architects. "The site is so spectacular."
Getting to this dynamic restaurant design had it's challenges.
"We had to stay 20 feet from the water," Pace notes. "And we couldn't encroach on Voinovich Park."
To meet these requirements, a plan was devised to create a one-story restaurant with a rooftop bar. During the planning stages, it was decided to enclose the second-floor bar area without sacrificing the amazing views. The resulting 9,000 square foot structure is by no means sprawling, yet it has an open, uncomplicated feeling that suits the restaurant's theme. Another challenge with the project was the concern of moisture at the foundation, the developers opted for a liquid membrane that would seal in the foundation.
"The site itself was challenging," says Dennis Zanath, vice president of project development for Snavely. "There were underground utility lines that weren't undocumented. The sanitation line was particularly bad. We had to put in a pump station and run it beyond the Rock Hall. Taking out all of the pavers on the site and putting them back in was a lot of work."
With a fast-track deadline, there was no time for anything but a can-do attitude.
"We worked through the winter," Zanath says. "There were days that we had 100 guys working on what was not a very big job site. It takes teamwork and the ability of our guys and be committed and devoted to make it happen."
The end result illustrates that commitment, Zanath notes.
"We were able to consistently that's outstanding in design and quality," he says.
TASTEFUL DESIGN
A multi-dimensional goal for this project involved using the finest and most appropriate details that served an architectural purpose while underscoring energy efficiency.
"The restaurant was built for the next generation of energy codes," Pace says.
An EPDM roof shields wood trusses with steel webbing.
"We added extra insulation for LEED cerification," says Matt Piecnik of Dimit Architects, adding that the ultimate hope is for the project to become LEED Gold certified. Four high-efficiency HVAC units sit atop the roof.
Other efficiency details are as aesthetically pleasing as they are environmentally friendly. An overhang spanning the second-floor roof provides passive heat while shielding patrons from sun glare.
"Braided bamboo and woven rattan pendants recall traditional handicraft, illuminating the lobby against a backdrop of terra cotta block," says Sarah Krivanka, a senior associate at Dimit.
Inside the restaurant, fiberglass panels provide excellent sound absorption on both floors.
"Sound mitigation was something we didn't have in Akron that we wanted here," Hirt says. "If you're downstairs, you don't hear a party upstairs."
Such details illustrate the desire to ensure quality, even if that meant a greater cost in some areas. "For example, it would have been cheaper to shorten the overhang on the second floor, but that wouldn't have been good value," Pace says. "We needed to set the standard for quality in this location."
Amid the open and minimalist layout, key design details draw attention.A multi-tiered wood chandelier commands a strong presence in the foyer. At the reception desk, a terra cotta partial wall mimics the Nuevo logo, a feature that is repeated inside the dining area. Cable railings inside and outside the restaurant tie together interior and exterior.
Creating a sense of openness wherever possible was the goal when it came to planning the interiors. Vents in cabinetry and open bases on center-aisle banquettes are just two clever notions employed by the design team at Dimit Architects. Such details continually reinforce the idea of the restaurant extending towards the exciting landscape.
Where color is used in the furnishings, it is meant to complement architectural elements. Banquette seating is covered in terra cotta the partial wall at the reception area, for example. Seating includes tables made by two of Hirt's friends: Freddy Hill, of Lakewood, and Jason Skirrle, of Cleveland.
Murals add a Mexican flair in dining nooks. Vented cabinets surround the open kitchen, reinforcing an accessible, light ambience.
Satisfying finish
Nuevo is renowned for its food as well is its libations. Serving more than 100 types of tequila, the restaurant not surprisingly uses its bar as a priority focus.
Thanks to the use of natural elements and appropriate lighting, the first-floor bar eschews the typical heaviness of a restaurant bar. Instead, iit lends the sensation of almost floating in the dining area, a design feat that perfectly complements the lake just outside the doors.
Since opening in July of 2016, Nuevo has captivated diners who have been craving a place to nosh near the lake. The restaurant is packed for lunch and dinner, and many organizations have taken advantage of the second-floor for private functions.
As the first jewel in a crown that will highlight the royal beauty of Lake Erie, Nuevo has exceeded expectations. "We knew that we'd have success here," Pace says of the restaurant project. "Now we have to continue that around the harbor."