Mitchell's Takes Center Stage in Ohio City
Local ice cream icon has a new home in renovated Rialto Theater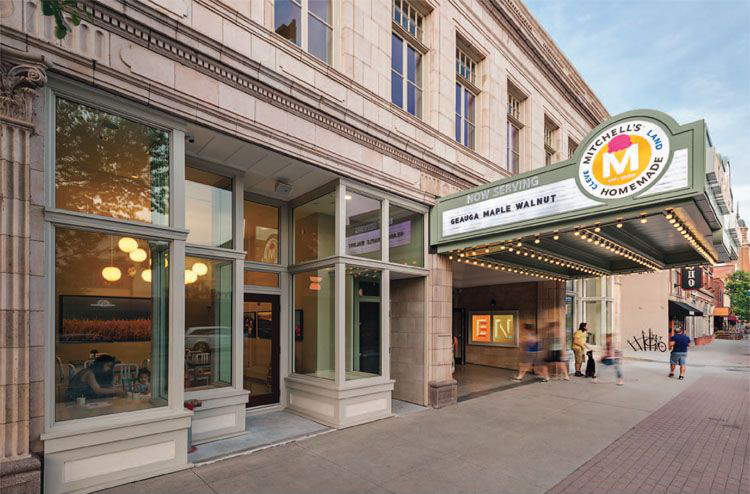 University Heights natives Mike and Pete Mitchell have delivered tier passion – ice cream – to Northeast Ohioans since 1999. Over time, from a single retail location in Rocky River, Mitchell's Homemade Ice Cream has expanded across Cuyahoga County. In 2014, Mitchell Brothers Ice Cream Inc. opened what can be  best described as its mother ship on West 25th Street in the historic Ohio City district of Cleveland . Mitchell's takes over a building steeped in history but relegated to a two story abandoned shell of a nightclub.
Built in 1919, the terra cotta and brick-dad Rialto Theater offered vaudeville and cinema productions in one of the largest such venues on the West Side. Other businesses would occupy the space, the last being Moda night club, which shuttered in 2005.
Meanwhile, as Mitchell's added locations throughout the area, it continued operating its main kitchen out of Rocky River, where space was sparse. By 2011 the old Rialto was on the Mitchell brothers' radar, with Mike and Pete swayed by the vibrant neighborhood and an available building with more than 13,000 square feet. The brothers bouqht, and Mitchell's in Ohio City is now a reality.
The ensemble tapped to design and reconstruct Mitchell's flagship location induded Dimit Architects LLC, of Lakewood, with Scott Dimit as the principal architect, and general contractor R. W. Clark Co. lnc., of Cleveland. Properties recently toured the space w1ch Dimnit Architects' Analia Nanni Dimit, director of interior architecture, and Mace Plecnik, project designer and man­ager, as well as Andrew Clark, vice presidenr of R.W. Clark.
Strictly speaking, the new 13,325-square-foot headquarters includes a storefront order and serving area – originally the theater's ticket lobby – as well as a full 6,000-squarc-foot-plus production kitchen with seating and special events accommodations, and offices. But d1is bare-bones description in no way gives the reconstructed space its due. Seating and serving areas are built around – and over – the ice-cream manufacturing operation, a two-story space rising more than 30 feet to a wood slat and truss roof, itself an architectural gem chat the design and build team strove to preserve and promote. The arrangement shines a spotlight on production for all to see. From the storefront, where orders are taken and served, patrons can view the ,manufacturing space. as well as from a second-floor area seating more than 75 and available for rental. A private room off of the storefront lobby provides event space for as many as 20 visitors.
Interior gutted, exterior preserved
Upon purchasing, the Mitchells found a structure with a viable exterior, but an interior that required massive rework. Dark purple, black and neon green walls, and even drinks left on the bars from years before, greeted the team . A leaking roof added to the transformation challenge.
With input from the Mitchells, Dimit began drawing and design work in September 2011, with pursuit of Ohio Historic Preservation tax credits in mind R.W. Clark commenced demolition of interior walls and flooring – essentially wiping out the interior – in January 2013, followed by more than a year of construction. Referencing old photos, newspaper clippings and ghostliness from the original store footprint, the project team was able to detail the building's original features . By working off of remaining original elements still in place and following the ghostliness, the team was able to recreate the original storefront profile. Restoration included casting of new column base blocks – replacing deteriorated blocks – to match the originals, as well as other significant repairs to the terra cotta facade. The storefront marquee underwent restoration as well, and now highlights various ice cream flavors, along with theater-style lightboxes promoting local suppliers and farmers. Entryway terrazzo flooring had to be restored, with some new patches added to match the original, which presented an early project challenge, according to Clark. The area required a mid-winter cap and enclosure to ensure proper temperature and environment for the detailed work.
"A lot of effort and time was spent working to respect and preserve the historic features," explains Plecnik. "From painstakingly matching original wood storefront profiles to meticulously examining aggregate in terrazzo flooring, the craftsmen rose to the challenge."
The Mitchell brothers seek a different look for each of their locations, though the Ohio City interior offers similarities to Mitchell's most recent Uptown store with its use of similar wood and round shapes. Interestingly, all slat-wall and table wood here is reclaimed from local housing. And of course there's the train. All Mitchell's locations feature model trains operating above and around seating areas, with the train tracks running along a soffit at the Ohio City store.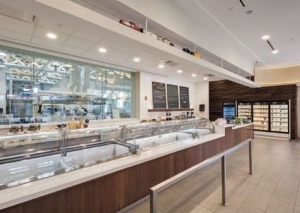 "From the moment that you walk into the main space, the ice cream is the main focus," says Analia Nanni Dimit. "We assembled a collection of minimalist materials, creating a sense of balance that focuses attention on the menu, the fresh ingredients, and the dedicated team serving and making the ice cream in the kitchen beyond."
Ice cream colors pop out, and especially in the kitchen the decor highlights the bold colors of ingredients. A significant decor addition is the artwork, provided by Bea Mitchell, the brothers' aunt and an acclaimed artist. She produced two monumental paintings in the kitchen as well as others on the first floor and in a gallery on the second. Look closely and you'll also see the ice-cream-cone shapes cut into stair risers. Details such as these abound at Mitchell's in Ohio City.
As mentioned, customers can view the production kitchen from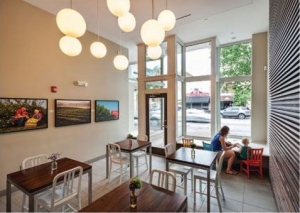 just about anywhere inside. To do that, the second-floor space, once occupied by apartments, had to be opened up. That included knocking out sections of existing brick walls. Such  challenges were well worth it, as the kitchen, in what had once been the theater screen and seating area, is a sight to behold. Three 700-gallon drums transform milk and cream into ice cream, with ingredients for individual flavors then added by hand. Flavors are produced in 3.5-gallon batches, with finished product stored in onsite freezers for use at the Ohio City location or to be shipped to the other stores and restaurants. The kitchen also includes cleaning equipment and ovens for baked goods.
A test kitchen within the space allows the company to expirement the new flavors. Gorgonzola and garlic are two once-experimented-with flavors (okay, not every flavor crafted by the Mitchell's has been successful).
Unique roof supported highlighted
Another significant kitchen feature resides not on the floor but up above. Patented by Ithiel Town in the early 19th century, Town's lattice truss, as it's called, was designed as a more economical bridge design than others of the day. The truss found its way into roof design, and this building is one of the few still existing that employs such construction. The team sought to highlight this rare architectural find, and painted the trusses white – they were black – after performing repair and support work. I.A. Lewin, P.E. and Associates, of Cleveland, designed the roof reinforcing that included strengthening of the lattice timber trusses, and also performed other project structural assessments and repair recommendations.
The reconstruction project also netted a new truck dock and parking area at the rear of the building.
Green is a go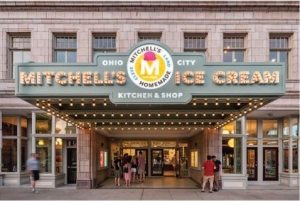 Owing to it's previous history as a nightclub with high power needs for lighting and sound, the building already had ample electrical service when Mitchell's made the purchase, but improvements were made. Today, the building carries both 600- and 800-amp service as well as a 46-kva emergency generator to back up refrigeration units and freezers. Should they fail, Mitchell's ability to provide product for all of its stories also would fail. New solar panels on the roof augment supplied electricity. Two rooftop air-handling units, a rooftop 14-kW chiller and three furnace systems provide for climate control, with three huge ceiling fans destratisfying the kitchen space.
Rooftop refrigeration units capture discharged heat from their heat exchangers, which is then used to preheat water entering the hot-water tanks. Whereas water entering the tanks typically measures 50-60° F, water via this method enters the tanks at 100°F. That means a whole lot less energy is required to bring it up to  the needed 120-180°F.
All interior lighting is energy efficient LED, and includes occupancy and daylight sensors. Mitchell's also replaced 100 60-watt incandescent bulbs with LEDs on the streetscape marquee. As a result, the entire marquee uses the equivalent energy of one former bulb – an amazing improvement. In addition, oversized, gable-shaped clear-glass skylights bathe the production kitchen in natural light.
"They built out a great deal of this space with efficiency and sustainability in mind," says Clark. "The Mitchells are very forward-looking, even if that meant a higher upfront cost here. But efficiency and sustainability are important parts of the Mitchell's Ice Cream brand."
In one more nod to sustainability, stormwater captures from the roof routes to an 11,000-gallon cistern in back of the building where it is used to feed the toilets. In addition, it tempers hot water exiting Mitchell's commercial washers so that it is cool enough to enter wastewater drains.
A team effort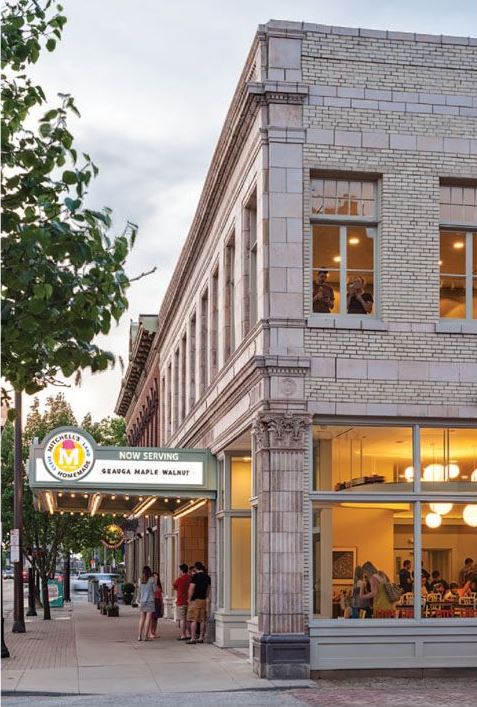 Since its grand opening in April 2014, Mitchell's Ice Cream, another
family-friendly Ohio City attraction, has delivered droves of new patrons to the neighborhood. Adding to the buzz is a patio along the side of the building, between Mitchell's and SOHO, where Gould Court has been closed to traffic. In addition, steel furniture designer Jason Radcliffe – founder and owner of 44 Steel, who performed welding and metal fabrication on the project and most recently was a finalist on Spike TV's Framework reality show – is contributing a stainless-steel sculpture. The outdoor interactive water piece will help educate the public on Mitchell's Ice Cream's cistern and water-capture program.
Though fundamentally the Mitchell Brother's efforts to create a green operation that showcases the ice-cream-making process, the project success was truly a team effort. Dimit Architects had worked with the Mitchells on their previous locations, and Andrew Clark with R.W. Clark sensed immediately the Mitchell's desires for the space.
Meeting the guidelines for federal and state historic preservation, the project, through Dimit Architects, won an Ohio Historic Preservation Office 2014 Preservation Merit Award. The award validates what everyone else already seems to know: Ohio City and Mitchell's Ice Cream, through the re-use of the historic Rialto Theatre, are a winning combination.