ASM International Newly Renovated World Headquarters
Written by Scott Dimit | Published in Windows Magazine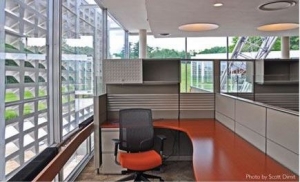 On a majestic landscape in Novelty, Ohio sits the 45-acre Materials Park, home to ASM International. The newly renovated world headquarters, originally completed in 1959 by the late Cleveland architect John Terence Kelly, exemplifies the imagination of the mid-century American Modern movement.
In 1955 Kelly, along with ASM's Co-founder William Hunt Eisenman, envisioned a campus that would express the era's construction and metals-engineering achievements, and complement the lush and bucolic landscape. The result: a semi- circular office pavilion overlooking an elaborate materials garden. Both are encased by the largest open-geodesic dome in the world. The dome maintains this distinction even today.
While Kelly designed the building concept for the geodesic
dome, R. Buckminster Fuller's Synergetics Inc. of Raleigh, North Carolina, realized the dome's construction. Kelly brought in the architect and mathematician to form an open- work system with the minimum number of supports using only five pylons. Made of tubular 7075 aluminum alloy, the structure stands 103 feet high and spans 250 feet in diameter — a significant testament to metals-engineering achievements of the mid-1950's.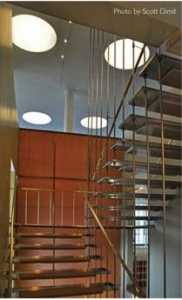 Kelly highlighted metal's durability and malleability in the office pavilion as well. He used stainless steel throughout the building to achieve a myriad of effects. The building itself stands on circular, concrete-filled steel columns, and inside, the main stairway hangs on slender steel rods that suspend the entire height of the building. A stainless steel rain screen made of 4,000 louvers controls the interior lighting of the building. And to keep the details of the building minimal, Kelly designed Simple Cast brass exterior door handles to compliment the interior aesthetic.
Over the last 52 years, significant wear and ad hoc renovations overshadowed Kelly's elegant and imaginative vision.
That is, until now.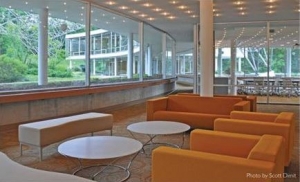 In 2009, Michael Chesler of The Chesler Group, a developer and contractor based in Cleveland, approached ASM Managing Director Stan Theobald to restore the building and add it to the National Register Of Historic Places. In doing so, the earned a total of $2 million in state and federal tax credits. As part of the $6.5 million renovation, Chesler replaced the building's mechanical systems, cleaned and refurbished the sun screens, installed gaskets seals the for the plate-glass windows, added better insulation and repaired corrosion. The garden level now holds a green roof over the reinforced and newly water-proofed concrete.
Dimit Architects, based in Lakewood, Ohio, joined the effort in early 2010 and restored the interiors to Kelly's bright and open scheme. The sleek, low-set furniture opens panoramic views out onto the garden and grounds, amplifying the habitants' experience with nature throughout the changing seasons. Lead designer Analia Nanni Dimit stayed focused on Kelly's plan, restoring over thirty pieces of original furniture, including the boat-shaped conference table designed by Kelly himself. Private and IT spaces have been updated with modern amenities that remain sensitive to the original design. "We stayed true to Kelly's vision," says Dimit, "but in a way that works for ASM today."