ABOUT
Dimit Architects offers full-scope architectural services for residential, commercial, renovation, and urban design projects. Specialties include historic renovations, interiors, single-family and multifamily residential projects, mixed-use projects, hospitality, urban design, and master planning.
Regardless of the project size, the architects at Dimit endow their structures with a sense of identity and verve. Their buildings are "very much of the present moment but are also comfortable and harmonious when nestled among earlier eras of construction." (sourced/Cleveland.com)
Founded in 2004 by Scott & Analia Nanni Dimit, Dimit Architects was a natural outgrowth of their shared design beliefs – bred from an interest in preserving and augmenting the historical-built fabric of Northeast Ohio, while at the same time remaining environmentally responsible. Dimit Architects have a keen awareness of the limited and fragile eco-resources that remain available for our use.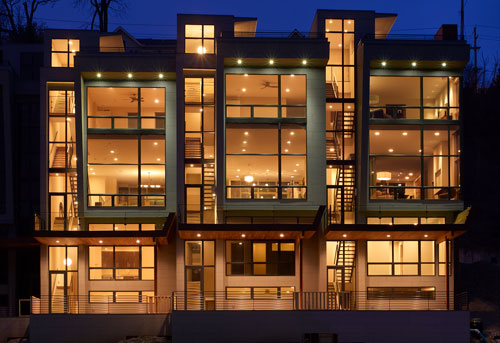 Transforming The Horizon
"We approach every project as a unique collaboration, each with specific opportunities, objectives, and discoveries evolved from the earliest phases of work. We like to think of the architect's role as that of a 'creative enabler', and we embrace a team approach from the initial schematic concepts through the development of construction documents, and ultimately through the construction phase." -Scott Dimit
FOUNDERS
Principal Scott Dimit has over thirty years of experience as a project designer, architect, and manager, and has completed award-winning projects throughout the United States and abroad. After receiving a degree in architecture from Virginia Polytechnic Institute, Scott worked with design firms in Chicago and Paris as a staff architect and senior designer, respectively.
Director of Interior Architecture Analia Nanni Dimit has sixteen years of experience in residential and commercial interior design, urban design, and master planning projects, garnered both here in Ohio and in her native Argentina. Analia leads efforts in master planning and interior architecture projects. Analia graduated from Universidad Nacional de La Plata in Buenos Aires in 1998.